TEAM ACADEMY OF RECEPROCAL ENDODONTICS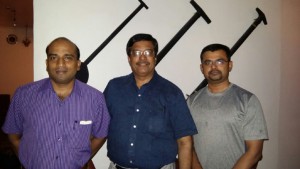 Balagopal MDS
Vice Principal, HOD of Department of conservative Dentistry Tagore  Dental college, Chennai. He had attended Endodontic  training  course conducted by Univ Of Pennsylvania (USA)
Ashok Gowda MDS
HOD of Department of oral pathology Bangalore Institutes of  Dental science.  Trained in essential dental systems USA, in Safe Sider  reamers, Rotary and hand. Provided trained in Ultrasonic sand Microscopes in Dentistry in essential Dental systems.
Aji Mathew Thomas BDS 
Did his postgraduate training in Conservsative Dentistry and Endodontics from Rajas Dental College.Trained in Safe Sided Reamers, hand and rotary and provided ultrasonics and microscopes in Dentistry at Essential Dental systems USA.